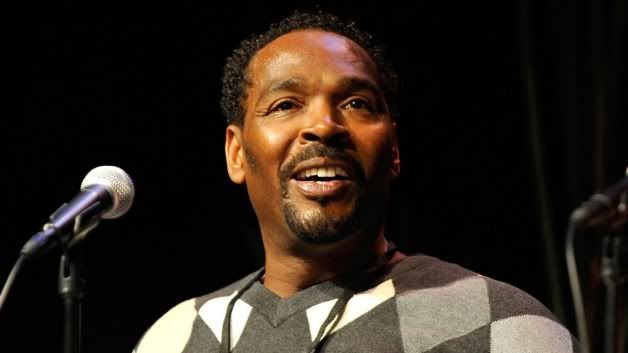 Police brutality victim
Rodney King
was found dead this morning. He was 47.
Rodney King, who became a household name after a 1991 beating at the hands of LAPD went national, has died. The 47-year-old was found dead at the bottom of a pool this morning by his fiancee
Cynthia Kelley.
Rodney
will also be remembered
for his impassioned plea during the L.A. Riots when he said,
"People, I just want to say, can we all get along? Can we get along?"

Law enforcement told TMZ that they are opening a drowning investigation. No cause of death has been released as of yet. There does seem to be more to this story either way. A very sad ending to this story.............R.I.P. Rodney.
UPDATE:
Rodney King
sounded upbeat and excited about an upcoming celebrity boxing match, this according to a friend who spoke to him just hours before his death.
Damon Feldman
-- who worked with King on the boxing circuit and has known him for several years -- tells TMZ he spoke to King at 4:00 PM and they discussed his future in boxing.
Feldman says Rodney was excited about his next boxing match -- a fight with
Jose Canseco
-- that was to take place in August. A press conference had been scheduled for June 29 to announce the battle.
Feldman tells TMZ that Rodney was thrilled to be
working
again and looking forward to getting back in the ring.
Rodney King
's fiancée is telling friends Rodney had been drinking all day Saturday ... and had smoked weed in the hours leading up to his death ... sources close to King tell TMZ.
According to our sources, King's fiancée,
Cynthia Kelley
, is telling friends King was at the house all day drinking, and he smoked marijuana at some point, before she went to went to bed at 2:00 AM.
We're told Kelley says she next saw King at around 5:00 AM when she was awoken by him screaming in the backyard. Our sources say Kelley found King naked, banging on the glass, and she called out to him, "What's wrong, Rodney?"
Kelley is telling friends she then went to grab her
phone
when she heard a big splash. She then went to the backyard and discovered him in the bottom of the pool and called police.
Paramedics attempted to revive King, but were unsuccessful.