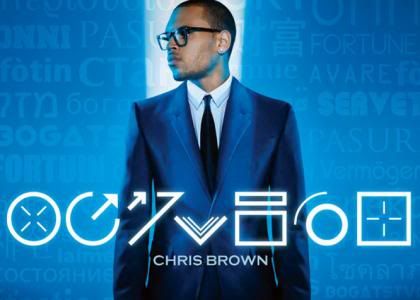 Chris Brown has released the cover art and track listing for the upcoming Fortune disc (July 3). Get the deets inside..............
The album does feature guest appearances by Big Sean, Wiz Khalifa, Nas, Kevin McCall, Sabrina Antoinette andSevyn. And Chris co-produced three tracks and enlisted top-notch producers The Underdogs & Fuego, Polow Da Don, The Runners, Benny & Alle Benassi, Free School, Danja, William Orbit and more.
And on Friday, June 8th, Chris will hit The "Today" Show Toyota Concert Series stage to perform some of his hits.
STANDARD EDITION TRACKS
1. Turn Up The Music - Produced by The Underdogs & Fuego
2. Bassline – Produced by @PopWansel, co-produced by @DayviJae
3. Till I Die feat. Big Sean & Wiz Khalifa – Produced by Danja
4. Mirage feat. Nas – Produced by Harmony, co-produced by Chris Brown
5. Don't Judge Me - Produced by The Messingers
6. 2012 – Produced by Adonis, co-produced by Kevin "K-Mac" McCall
7. Biggest Fan – Produced by The Runners, co-produced by The Monarch
8. Sweet Love - Produced by Polow da Don & Jason "JP" Perry
9. Strip feat. Kevin McCall – Produced by Tha Bizness
10. Stuck On Stupid – Produced by Brian "BK" Kennedy, co-produced by Dante Jones
11. 4 Years Old – Produced by Polow da Don & Tommy Hittz
12. Party Hard/Cadillac (Interlude) feat. Sevyn - Produced by Brian "BK" Kennedy & Boi-1da 13. Don't Wake Me Up – Produced by Benny & Alle Benassi, Free School & William Orbit, co-produced by Brian "BK" Kennedy
14. Trumpet Lights feat. Sabrina Antoinette - Produced by Polow Da Don,
co-produced by Jerome "J Roc" Harmon
DELUXE EDITION TRACKS
15. Tell Somebody - Produced by Polow da Don, co-produced by Jerome "J Roc" Harmon
16. Free Run - Produced by The Underdogs
17. Remember My Name feat. Sevyn - Produced by Free School & Chris Brown, co-produced by Jonas Jeberg
18. Wait For You - Produced by Harmony aka H-Money, co-produced by Chris Brown
19. Touch Me feat. Sevyn - Produced by R.A.P. 1220