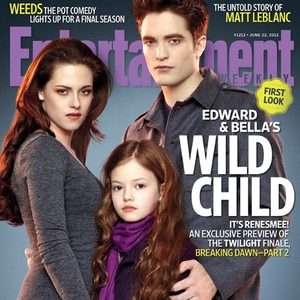 Entertainment Weekly
She may be young but loves blood...lots of it.
NOW IF YOU ARE A TWILIGHT FIEND LIKE MYSELF YOU CAN APPRECIATE THIS.
With less than six months to go before The Twilight Saga: Breaking Dawn Part 2 hits theaters, the last installment of the popular big screen franchise, Twi-hards are finally getting their first look at Renesmee, the half-human, half-vampire offspring of Bella Swan and Edward Cullen.
So who is the child actress taking on this iconic character?
Eleven-year-old Mackenzie Foy!
As anyone who's read the
Twilight
series can tell you, Renesmee makes her first appearance in a bloody
birth
scene in
Breaking Dawn
(that's actually depicted on screen in
Breaking Dawn—Part 1
). But
Part
2 is the first time audiences will get to see her somewhat grown up.
"Nessie," as Jacob Black calls her after imprinting her, strikingly resembles her father but has her mother's brown eyes, and has a taste for both human food and blood (though she prefers the latter). In the novel, because of her mixed heritage, she grows and matures very rapidly, a key plot point that will drive the final film to its epic conclusion.
"Even our hands look similar," the actress told the site. "It was kind of strange. But it's funny how it actually helps. It's like, 'Oh, hey, you look like me, kid! Come on!'"
Breaking Dawn Part 2 unspools Nov. 16.