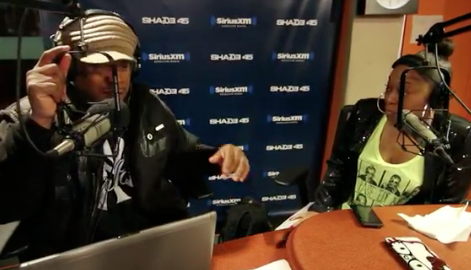 Rapper/radio personality Shawnna chatted it up (where has this chick been?) with Sway recently where she shared her thoughts on rap beefs between females. Also, Lil' Duval chatted it up about his new show "Hip Hop Squares" and threesomes with his girlfriend.
Rapper Shawnna stopped by Sway's Shade 45 where they talked about unity in the rap game. During their discussion, Shawnna revealed how disappointed she was by the recent beef between
Lil' Kim
and
Nicki Minaj
. She made a good point that male rappers are winning together and the men in the industry figure out how to
make money
together. She questioned why women think there can only be one chick winning at a time.
She added that the sad thing was that its the women who promote that belief that there can only be one. She also discussed her decision to leave the DTP crew.
Watch Shawna break it down to Sway about female rappers here:
On why she left DTP:
In other interviews....
Lil' Duval stopped by The Breakfast Club this morning to promote tonight's premiere of "Hip Hop Squares" on MTV2. While discussing his support of gay marriage (his sister is a lesbian), Lil' Duval went into A LOT of detail about threesomes with another woman and his girlfriend. We learned that he lets her pick out their partners because she likes pretty women whereas he is more into "body." Well isn't that interesting....
He also promoted his upcoming standup tour "A$$hole By Mistake."
BONUS
: Check out some behind the scenes footage of Lil Duval and
DJ Envy
taping Hip Hop Squares:
The show premieres tonight on MTV2 at 11p/10c.