First
Lady
Michelle Obama
stopped by "The View" earlier today where she talked about being a mother in the White House,
eating healthy
and her own political goals. Deets inside....
Michelle Obama made her third appearance on "The View" today as she promoted her first book
American Grown
. The book focuses on the White House garden she started three years ago and includes tips about creating your own garden,
recipes
, and eating healthy.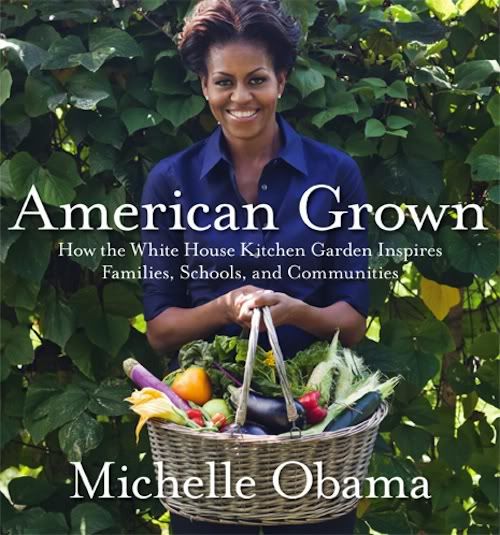 Rocking a fab blue and white belted floral dress and blue kitten heels, she told the ladies of "The View" she was inspired to start the garden because she wanted daughters
Sasha
and
Malia
to be healthier. When the girls' doctor specifically said that she needed to watch their
diet
, she decided to take control. Michelle said she began with small, important changes like adding more water and fresh vegetables to the family's diet.
The hosts asked her about if she ever worries she is pushing her image of First Lady too far--like critics like to say (like hula-hooping on the South Lawn and appearing on tons of
magazine
covers
and talk shows). She answered,
"I have to be my authentic self. You all can smell inauthenticity a mile away."
And she's right.
When the subject of racism came up, Mrs. Obama said she does think racism is a factor in this country but she added, "Barack Obama is the President of the United States. And this country put him in office."
She added that the majority of what she gets as she travels around the country is "love." "There is more that unites us than divides us. We are all fighting for a decent America."
She added that "Barack says when they go small and you go big--Always take the higher ground."
The First Lady, who says she usually goes to bed around 9 (after Mr. President literally tucks her in) even though Malia is now staying up later to do homework, says she and the President protect the girls from the negativity directed towards their Dad as best they can but she adds, "Your life is good either way. Their world is secure no matter what." She says the girls understand that Dad has rough days, but that they are loved and protected.
She added that she teases The President a lot but he DOES NOT tease her back.....it's part of the
deal
. Ha! I know that['s right....
Mrs. O. combated rumors of her own political agenda by confirming she would NEVER run for political office. After 48 years of life, she says she knows her passion--and it's not politics. But, she said, she will spend the rest of her life
working
for military families.
Watch the interview here:
And earlier:
The First Lady appeared on "Good
Morning
America
" where she talked about the garden with a bunch of cute kids. Watch it above. Cute dress
Robin
!