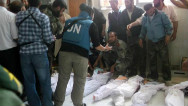 He had washed the bodies of nine slain children already, one of whom was not even a year old, he told the U.N. observer. He wanted to know why. That question he actually wanted answered. The observer appeared overwhelmed.
Children were missing limbs. Others suffered gaping head and chest wounds. Images showed children sprawled on blood-smeared floors, their lifeless eyes staring into oblivion, their clothing torn and stained crimson. While many young victims were apparently shot, there were reports that children had been stabbed to death or attacked with axes.
U.S. National Security Council spokesman Tommy Vietor said the United States was horrified by "credible reports" of the massacre, "including stabbing and ax attacks on women and children."
Also confounding coverage is that some of the footage coming out of Houla is so gruesome as to be – as one British broadcaster called it – "unbroadcastable."
Protests had been planned in the capital of Damascus and in various locations in Homs, Hama, Aleppo and Deir Ezzor provinces that day. The shelling in Houla began shortly after 2 p.m., according to Human Rights Watch, after soldiers at an army checkpoint in the nearby village of Taldou opened fire to disperse demonstrators. Houla is a largely Sunni Muslim enclave surrounded by Shiite and Alawite villages, the latter being the sect to which al-Assad belongs.
First, tanks began shelling the neighborhood at about 2:30 p.m., and the mortar fire began a couple of hours later, all emanating from the air force military college located at Houla's entrance.
Several reports indicate this was about the time that armed men in military uniforms began attacking homes, and HRW reported that dozens of the dead were from the Abdel Razzak family that lives in eight or nine adjacent homes near the dam on the outskirts of town.
A mother and her 10-year-old boy, both of whom belonged to the family, recalled hearing an inordinate number of gunshots. The mother took the boy to a barn to hide, and her son told HRW he heard men shouting and women crying.
He peeked out the window occasionally, fearing he might be spotted if he watched for too long. Men wearing uniforms or camouflage entered his home, he said.
"Then across the street I saw my friend Shafiq, 13 years old, outside standing alone. An armed man in military uniform grabbed him and put him at the corner of a house. He took his own weapon and shot him in the head. His mother and big sister – I think she was 14 years old – went outside and started shouting and crying. The same man shot at both of them more than once," he said.
His mother said she and the boy came out from hiding after the rebel Free Syria Army arrived.
"I saw Shafiq on the ground dead. I saw three families: three women, two of them with children. All of them were shot. Some were shot in the head and others had multiple shots in the body," she told HRW. "One of the children survived. She is 14 years old. She was shot twice in the leg. I also saw my cousin who was shot in the chest. A 13-year-old boy who was paralyzed was shot three times in his chest as well."
She "confirmed that the Shabiha handcuffed the children of Abarra family and told the father to look at their children, how they will be killed in front of his eyes, before they killed him," the group told the newspaper.
An elderly woman recounted a similar scene for HRW, saying she was in a house with 10 family members when she heard gunshots and a man's voice in another room.
"I hid behind the door. I saw another man standing outside by the entrance door and another one inside the house. They were wearing military clothes. I couldn't see their faces," she told the group.
She thought they were searching the house, but a few minutes later, she heard family members screaming. The children, none older than 14, began crying.
"I went down on the floor and tried to crawl so I could see what was happening. As I approached the door, I heard several gunshots," she said. "I looked outside the room and saw all of my family members shot. They were shot in their bodies and their head."
Too terrified to see if they were alive, the woman crawled to the back door and fled the home.
"I was in shock so I don't know what happened later," she told HRW.
"When they knocked on the door, we told them there were no men at home, only women and children, but one of them went inside and cornered everybody and started shooting. I lost four children and other relatives," she said.
"There are lots of civilians in the rebel-held areas," said Alex Thomson of CNN affiliate ITN. "They are not apparently frightened of the fighters. They are speaking openly to the United Nations … In the areas of the town held by the army, there is nobody. It's a ghost town."
Martin Brines, the French deputy ambassador, said a briefing by the head of the U.N. observer mission in Syria "clearly shows the responsibility of the Syrian government in failing to protect its civilians as well, as attacking them directly."
Despite a ceasefire brokered last month by former U.N. Secretary-General Kofi Annan's office, hundreds of civilians have been killed in Syria in the last six weeks. U.N. officials say more than 9,000 people, mostly civilians, have been killed and tens of thousands more displaced since the March 2011 uprising. Opposition groups peg the death toll at closer to 11,000.