Just in time for her big kick off Friday night at the Revel
Resort
in Atlantic City,
Beyonce
is giving folks a peek into her 8 week preparation for her concerts--just 5 months after becoming mom to
Blue

Ivy
. Check out the first behind the scenes
video
of Bey taking you "Inside Revel"....
Putting her curvier post-baby-body on display, Beyonce can be seen going over the show with her hubby Jay-Z, choreographer Frank Gaston (both above) and everyone else.
The video takes us back to 8 weeks ago when Beyonce started prepping for her show. From the stage meetings to the dance rehearsals,
LED
screen meetings. These rehearsals and meetings are what we spotted her attending in midtown Manhattan everyday.
"It is exciting. I feel a little nervous. I'm enjoying being a

mother

It's like going back to my old

job

. Its a little strange. But it's important that you don't loose yourself and you still have your own passions. I'm back to

work

. I'm back to business.

What I'm trying to say with this show is, 'Yes I had a baby and it just made me even more grounded and even more like you'."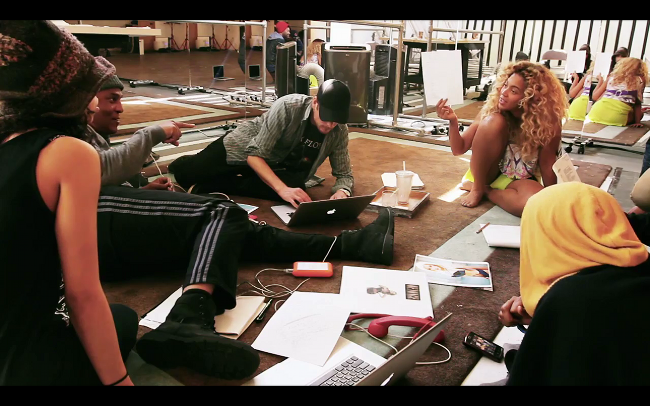 The blonde bombshell was hands on developing the whole show, and revealed she hadn't sang in a year before she started back up just 2 months ago.
As for how her post baby body is shaping up, her second choreographer, Danielle Polanco, revealed:
Check out Part 1 of the behind the scenes footage inside:
Bey's Revel comeback kicks off today (Friday).